One Thousand Gifts, February 28
It is a new week--yay!!
We do have a few things coming up:
boys' first soccer meeting tomorrow night and I think that practice begins Saturday--this should be interesting....and maybe I should verify that practice!
my monthly young survivors support meeting on Thursday
working on my first assignment for Candace Stringham's Oh Shoot! photography class.
getting Micah through the week, he is still in mid-terms that seem to be never ending and he is thinking he might be coming down with a stomach bug
oh, and work (you know, that thing that pays the bills!)
I have not been good about listing my gifts/graces this week, but I am committed to this
journey
:
#223. Mountains of laundry done
#224. Sweet and precious high pitched squeals of the boys at getting to be close up to a real live kangaroo
#225. For new perspective and feeling like some difficult weeks are behind me and I can handle difficult ones to come
#226. Reminders that the Holy Spirit really does prompt us to pray for others in distress even when we don't know they are in that place
#227. A rich family heritage
#228. A relatively painless solution to computer issues (i.e. Genius Bar at the Mac store)
#229. A husband who is hard at work for our family
#230. A good rotation schedule for Micah (just realized I forgot to count this a few weeks ago!)
#231. Sounds of boys playing games behind me as I type
#232. Getting the boys' room organized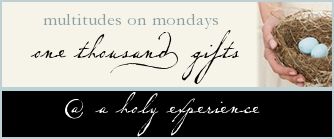 And I just realized that I haven't posted any layouts in awhile...will work on a catch up post with those because I have been scrapping occasionally!