One Thousand Gifts, April 25
We had a very fun filled (i.e. busy) weekend, but I will save the recap of that and pictures for later. I am busy today attempting to conquer this laundry mountain:
This is what happens when I am out of town and get behind on the laundry and do occasional loads through the week to get us through. This is also why I try to be on top of getting all laundry done in one day because I hate laundry piled up and hanging around waiting for me to take care of it. Our laundry room is in between the garage and the kitchen and basically the only entry we use, so there is no ignoring the fact that I am ignoring the laundry. Wow, that sounded like a very complicated story about laundry.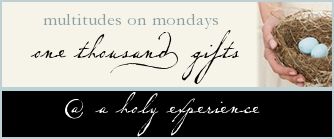 397.
Playing "football" in the park with the boys
399.
Cuddles and snuggles before bedtime with both boys wanting the spot on my lap—all too soon, this will end
400.
Finally scrapping a page
401.
Bible study with other women
402.
Smell of freshly cut lawns
403.
Cast your cares upon Him, for He cares for you.
404.
Coffee with a friend on the back patio
405.
A sweet chat with a friend in the midst of a the craziness/noise of a McDonalds playland
406.
Making it home before the storm
407.
Old hymns at Good Friday service, particularly When I Survey
408.
Laughter and joy on kid's faces as they play ball in the backyard of a friend's house
409.
The 1 mile fun run at OSU's Scrub Run—pure childish excitement
410.
A Saturday with Micah
411.
He is Risen! He is risen indeed!
412.
Jesus paid it all, all to Him I owe
413.
Ps. 94:19

When the cares of my heart are many, Your consolations cheer my soul. (ESV)
414.
The 'greening' of the world that comes from spring rains
415.
News of a clear PET scan
416.
Four years since my diagnosis—each day a gift
and the aforementioned scrapped page: