One Thousand Gifts, May 16
Today is Micah's birthday and to celebrate, he wanted to have some friends over for dinner and cake, so I have lots of preparations/cleaning to do today. The boys first words when they woke up were "it's daddy's birthday!! I can't wait to tell him happy birthday and tell him funny jokes." I love how much they love their daddy.
So, as I continue my list, I have been thinking a lot about whether or not I am being repetitive, I find myself thinking, 'oh, I am so thankful for that, but wait....have I written that already?' And so, I confess that I probably have some repetitive things on my list, but I have decided that I am okay with that. I am trying to live with eyes wide open to see the graces and gifts and God-moments in my life and record and remember
new
graces, but I don't ever want to close my eyes to the everyday, minute by minute graces that God has blessed me with each day.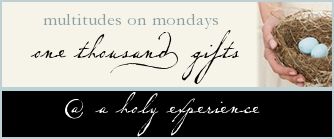 456.
A good cry on the phone with my sister
457.
Unrestrained energy of 3 little boys running full speed ahead
458.
Eating ice cream outside
459.
Good coffee for free
460.
Eating dinner as a family
461.
Micah's last final EVER!
462.
A really beautiful sunset
464.
Opportunity to teach life lessons
465.
Jesus—perfector of our faith, our great high priest, who freed us from the slavery to fear of death
466.
William singing "oh how I love Jesus" while going potty
467.
God's Word—spoken aloud, prayed
468.
Longer days of summer approaching
469.
Encouraging conversations
470.
Little boys adoring eyes on their daddy—oh that we would have adoring eyes always for our Father
471.
Soaking in the minutes with our family together
472.
A fun morning of photography and photoshop
473.
A date night with my two little men
474.
Seeing friends along the parade route
475.
The blue skies peeking through clouds
476.
A bright shiny new grill
477.
Willing help from my brother in law to help me get said grill
478.
Willingness of my sister in law to share her family time with husband to help us
479.
Pumpkin pancakes for breakfast
480.
Teaching boys the Doxology around the table
481.
Worshipping together at church
482.
Beautiful Sunday, open windows, cool breeze, birds chirping
483.
Laughter with small group
484.
Giggles, giggles, giggles, hysterical giggles from boys asking their daddy to tickle them!