A Thousand Gifts #417-455
Welcoming the week ahead with my continued list of gifts.
Micah left our house this morning at 1:45 to head back to school to study for his two exams that are today, one more tomorrow and then exams are complete and we are on to board review! I honestly don't know how he is doing it.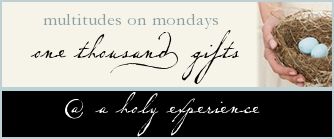 417.
Skyping with my parents
421.
Comfort and conviction found in scripture
422.
Licking the beaters from the chocolate cake
423.
Conversations about spiritual matters with 5 year old boys
424.
Haircut and chat with my hairdresser friend
425.
Reminder that God is pleased to be our God, He loves us and desires relationship
426.
The sun after many days of rain
428.
Last day of classes for Micah
429.
Boys that never.stop.talking—choosing to see the good in this today
430.
Floors—vacuumed and mopped
431.
Knowing what is TRUE even when my heart questions and doesn't understand
433.
A little arm tight around my neck while we read books
434.
Giggles and talking and "blanket dog" telling stories during a 'campout' (i.e. sleeping on the floor in a tent)
436.
An unexpectedly beautiful day
437.
'say the gracious, mommy'
438.
visit with a new friend and hope for a deeper friendship
439.
blue skies and warmer weather
440.
The Lord is my shepherd, I shall not want, He makes me to lie down in green pastures, He leads me beside still waters, He restores my soul. Yea, though I walk through the valley of the shadow of death, I will fear no evil for thou art with me, thy rod and thy staff they comfort me, my cup runneth over. Surely goodness and mercy will follow me all the days of my life and I will dwell in the house of the Lord forever.
441.
Parents who taught me Scripture
443.
The Spirit who intercedes for us when we have no words
445.
Melissa making it through her first treatment
447.
Answered prayer despite my lack of faith
448.
Joy of three little boys at rodeo
449.
Safety of a rider thrown quite traumatically at said rodeo
450.
Football in the backyard
451.
A mom who is such a godly example and wonderful friend
452.
A great heritage of mothers in my family
453.
His strength is made perfect in my weakness
454.
I am not a single mom, even when Micah is gone often, the truth remains that he comes home and we are in this together
455. A church that values marriages and a pastor that boldly encourages/exhorts us to be intentional