One Thousand Gifts, June 6
First of all, let me apologize for scaring so many of you. I should have led with "things are all good", I really didn't intend to make it all dramatic, it was just the way the conversation was going in my head. Thank you so much for your kind encouraging words, for your concern for me and my family, you blessed me with your kindness. We are still waiting to hear back on some blood work that will hopefully give us a better indication of why my levels were elevated. I, for one, am choosing not to worry about it. Micah, on the other hand, is a wee bit stressed and in his words, "he is my husband and so he can be". I will give him that, because if the shoe were on the other foot, I would be worried as well. He is studying his little heart out this week (and let's be honest, he has been for the last two years) for his Step 1 boards examination next Monday morning. I can't even express how proud I am of him, it is hard work what he is doing and I am thankful that there are those willing to do it, because I fear I would be one of the ones who would not make it.
I did manage to scrap a bit over the weekend:
I seriously love these pictures...they just crack me up!
It kills me how quickly our little ones grow up. Look how little Camden and the boys are on the right and just how grown up they are on the left.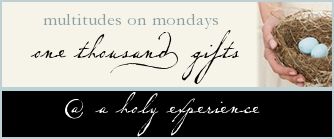 520.
repeated hugs from William (especially) accompanied by many "I love you, mommy"s
521.
boys waking up from naps only to climb in my lap and fall asleep for 20 minutes
522.
a beautiful sky complete with the sun spreading rays behind some majestic clouds—"it looks like heaven" says Xavier
523.
the respite from the world that is my Wednesday night women's group
524.
friends watching the boys
527.
Christian music/radio that encourages my heart
529.
Taking a break to curl up with the boys and watch Food Network while William wasn't feeling well
531.
Grilled corn on the cob
532.
A husband who brings me sushi
533.
Sweet love and concern from friends