One Thousand Gifts, the catch up edition
So, I have been maintaining my gift list, I just kept forgetting to post on Mondays and then, it was like, well, I will just post next week which turned into the next and next and now I have this super long list which does contain some duplicates, but as I was typing it up, I decided that it was okay, because I have been really thankful for those things.
This list is really for me and it is long tonight, but because so many of you thought of him and prayed for him, check out #625! As I typed these up tonight (copying from my notebook that I try to keep out or write in at least once a day), it was so good to go back and read and be reminded of those moments, things that prompted me to say 'thanks'. God has been good and as I was reminded of all the good things I have recorded, I also noted how many more I could have written, because what do I have in my life that is good that didn't come from God? In my women's group that is reading through One Thousand Gifts, one of the ladies shared how when they were growing up, they would tell their dad "thank you" for something and he would always respond "thank God" and I just loved how he was training his kids to always return the thanks to the Lord, because He is the giver of all good things.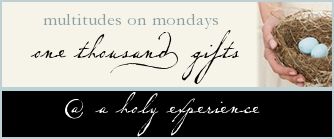 565.
Some much needed days away
566.
Hiking trails with my b oys
567.
Breathtaking beauty of God's creation
568.
Lazy sleeping in mornings
569.
Joy found in skipping rocks
570.
Exclamations of excitement for fish caught
571.
An unexpected date night
572.
A cooler day and lunch outside with friends
573.
Eating popsicles in the dark after swimming late
574.
Celebrating answered prayer
575.
More days with Micah
576.
Coolness of pool on hot summer day
577.
Constant commentary by the boys
579.
William being a 'waterbaby'
581.
Late night email conversations
582.
Talking through life with Micah
583.
How great is our God"—knowing His greatness
584.
Unexpected dinner guest
585.
Freedom, foundation our country was built on
586.
Eating sushi for half price
587.
Cast your cares on the Lord, for He cares for you. I Peter 5:8
588.
Micah getting off to go to July 4th cookout
589.
Spending the evening with good friends
590.
Good medical care for Melissa
592.
A cry on the phone with a good friend
593.
Joy of kids watching fireworks
594.
Excitement and enthusiasm of boys when Micah comes home
595.
Late night texting conversations with Liz
596.
Technology that keeps me connected even when I am far away
597.
A HOT but fun July 4th picnic with friends
598.
Instant offer of help with boys from friends
599.
Hills of Missouri, beauty of fresh hay bales
600.
An impromptu breakfast with mom and Liz on the road to Nashville
601.
Opportunity to sit and be with Melissa and Brian
603.
Late night hysterical laughter
605.
Quick cup of coffee with dear friends
606.
Painting Rory's toe nails
607.
Welcome back hugs from the boys
608.
He's the defender of the weak, comforts those in need, He lifts us up on wings like eagles
610.
"God's got good ears"
611.
Xavier conquering fear of going underwater
614.
An unexpected morning alone to get some work done
615.
Family Fun Night at VBS with the whole family
616.
The exuberant dancing and singing of children
618.
A mtg with fellow survivors who are much further down the survivor road gives me hope
619.
Reflection/study of God's word
620.
Card table and folding chairs in the shade of a tree
621.
A visit from my brother
622.
A pastor who is transparent
623.
Worthy is the Lamb who was slain
624.
A pool on a hot summer day
625.
Good board results for Micah
626.
A date afternoon/night with Micah on a Monday!
627.
Laughing out loud at card in Target
628.
Reminder that in His presence is fullness of joy—He is omnipresent, always there, so I can always find joy
630.
A friend's good test results
631.
Encouragement/inspiration of other Christian women
632.
Air conditioning on HOT summer days
633.
A television playing Tom and Jerry cartoons at the AT&T store
634.
Admonishment in Scripture I Pet 3:7-9
635.
Dinner with friends who drove to Owasso
636.
Micah and the boys folding and putting away laundry
637.
A night out celebrating birthdays
638.
A terrace on a warm summer night
639.
A family who is seeing and trusting God's hand in a very difficult time
640.
Catching up with old friends
641.
Seeing the boys 'catch up' with their 'old friends'
643.
Catechism at Sunday lunch with Micah
644.
The boys helping clean up hospitality stuff after church—serving as a family
645.
Hearing William singing "then sings my soul, my Savior God to thee" in the middle of playing
646.
Playing skipbo with the boys
648.
Running errands by myself
649.
A grandma who loves her grandsons
650.
The convenience of doing my laundry in my own home
And a couple of pictures that I took last night. Yes, I realize they are cropped in close, but they are my sweet boys and I kind of love them!