One Thousand Gifts, 8/8/11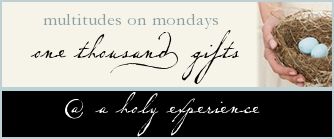 672.
Having one of my drs in Owasso
673.
Hugging the neck of my very ill friend and seeing a smile light up her face
674.
Being at the Laura Story concert
675.
Atmosphere of praise and worship as we sang together
677.
Accomplishing tasks to help other young women facing breast cancer
678.
Hearing and joining Xavier who is belting out "my God, He was, my God

He is, my God He's always gonna be."
679.
My husband who is working long hard hours with no complaining
680.
Cousins playing and laughing together
682.
That we still have water
683.
A better night's sleep
684.
A young woman recently diagnosed who found the courage to come to our Young Survivor's Meeting
685.
A visit with Micah's sister
686.
Feeling almost like a normal family with Micah having a weekend off
687.
A thunderstorm complete with much needed rain
688.
Cooler weather for an outreach event
689.
A rainbow in the water
690.
Sweet little baby cheeks
691.
Hearing God's Word presented
694.
Your mercies are new every morning, great is thy faithfulness