A Thousand Gifts, September 5
I just want to go on record as saying that I am a fan of the three day weekend. Especially when Micah gets to be off for all three days. Yes, you read that right, Micah was home for three whole days, three and a half, if you count the fact that he got done at like 1 pm on Friday afternoon (of course, he went in around 4ish, so he still worked quite a bit). We have played games, we had family over, we had friends over, we ran errands, we cleaned, we cooked, we relaxed and watched TV, we even went on a hike at a nearby state park this morning. It was so nice and I think that neither Micah nor I am ready to go back to the real world tomorrow, but I am going to choose to just be so thankful for the good weekend that we had.
Micah even got to go with me to pick up the boys on Friday from school. It was so cute, because he hid in the back of the van and completely surprised the boys who squealed/screamed very loudly when they realized he was there. I can't remember if I mentioned that he is on a surgery rotation this month, but that is what he is doing and the best news so far with this rotation is that he only has to work one weekend. I love it when he has the weekend off...have I mentioned that once or twice? The boys love having their daddy around and they spent hours this weekend playing legos together.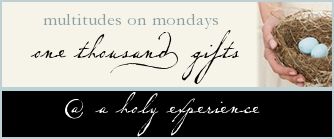 759.
Lunch with boys at school
760.
Repeated confirmations that the boys have a great teacher
761.
A cooler day for roasting
762.
A good 'nothing to see here' kind of appointment with my surgeon
763.
Boys snuggling in my lap every morning
765.
The way Xavier's thoughts always go to heaven when we see the sun peeking behind the clouds
766.
Beautiful Oklahoma morning sky
767.
Micah making it to Parents Night
768.
Teachers—such an important job
769.
Teachers—seriously could list it 15x in a row…their sweet spirits, their energy, their love for children
770.
That the boys are able to attend a Christian school
771.
Seeing the sweet smile of a friend and visiting
772.
Picking up the boys together with Micah
773.
Blog posts that convict and point me to the Father
774.
Cycle #6 completed for Melissa
782.
A husband who helps me so much!