A Thousand Gifts
I am discovering that there is always much to be thankful for, and today is one of those days when I am reminded to count every single blessing and every single day because we aren't promised tomorrow. Today marks four years since I went to the hospital with cancer still in my body and emerged from surgery a few hours later with zero cancer. Any way you look at it, it was a good day. A good day to celebrate. A good day to be thankful.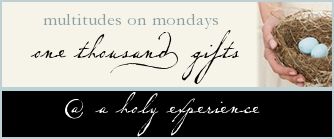 783.
That Micah is different (in a good way...)
784.
Sacred Parenting book
785.
A godly model for parenting in my own parents
786.
Start of a new study
787.
Coffee with sweet friends
789.
Micah being home for dinner and soccer practice (and hearing Xavier thank God for this)
790.
Heidi continuing treatment
792.
Overhearing a very passionate discussion of what the characters on Star Wars sound like:

'nuh, nuh' or 'ner-ner'
793.
Shadows and Light—David Crowder Band
796.
My help comes from the Maker of Heaven and Earth Ps 121:1
797.
A friend who knows my fears and lets me voice them
798.
A top to bottom clean house
801.
Sweet words from the boys' teacher
802.
Hearing them 'sing' their catechisms from songs learned in the classroom
803.
An abundance of fall clothes for the boys-God always provides
804.
Knowing He is there, that He knows our fears and hurts
805.
Remembering His goodness—looking back through my gifts journal reminds me over and over of this goodness
806.
Accomplishing some work on flower bed
807.
Tears and prayer with Micah
808.
Do not fear, Abram, I am your shield Gen 15:1