A thousand gifts
I have to confess that in all of last week's busyness, I was not faithful to get my gifts notebook out and record things daily....maybe that is why it was a difficult week for me? I do so much better when I am not focusing on how stressful/busy life is, but rather on what is good about the day. Just a reminder to myself that we never 'arrive' on this thankful journey, but have to keep running...each day a new opportunity to choose joy.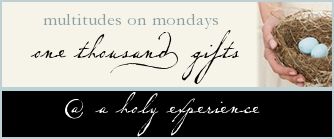 811.
Evening walk with the boys
813.
A surprise visit from friends to eat cake with us
815.
Knowing God knows and He is here with us
816.
A crazy busy weekend, but a fun one
817.
Hearing the boys play with McGwire
818.
Hysterical laughter of boys at Keith Coast event
819.
Short but sweet visits (plural) from friends
820.
Timely Bible Study—I lift my eyes up, my help comes from the Maker of heaven and earth, the Lord, the One enthroned in heaven