One Thousand Gifts
We are currently enjoying a visit from my parents for a few days. The boys are loving spending time with their grandparents and, honestly, I don't think I will ever tire of seeing my parents enjoy my kids. They got here late Saturday night and we all stayed up WAY past our bedtimes and are still playing catch up. We had a great day at church yesterday where both boys chose to stay in big church with us and I loved hearing their seriously exuberant singing. In the afternoon, we went on a little hike around the lake where the boys collected sticks to take to school for show and tell...in the end, we convinced them to settle for a few different types of nuts that we found along the way.
I have pictures, but of course, have been too busy having fun to upload and process.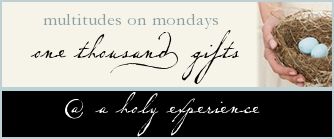 821.
An easy fix to the dishwasher
823.
Joshua 21:45 "not one of the good promises which the Lord had made to the house of Israel failed; all came to pass."
824.
Joshua 23:10b "for the Lord your God is He who fights for you, just as He has promised you."
825.
A God who hears our cries, Holy Spirit who intercedes when we have no words
826.
Lunch with Micah at the hospital
827.
Being able to lose myself in my photography class
828.
Daily phone conversations with my sister
829.
Text conversations with my other sister
830.
The comfort of my family
832.
Hearing Xavier's exuberant praise in church
833.
Another rotation done for Micah
834.
Visit from my parents and how much enjoyment my boys get from being with them