A thousand gifts
This has been a day. It started with the van having a dead battery, thankful for some neighbors who helped me get the boys to school and jumped the van. Then, I got to have the joy of having some dental work done. For the most of my almost 34 years, I have had great reports from the dentist, only having the occasional partial filling, no real cavities. And the last time, I had to even have one of those small things done was probably 10 years ago. So, today when I had to have not one, not two, but three cavities filled....let's just say it was not my favorite thing. In fact, I felt so traumatized by the drilling and the whirring that I found myself trying to think of other things that I liked even less than the dental work and let me tell you, I could not think of many things. Fortunately, it is done and hopefully it will be another 10 years before I have to have any more work done.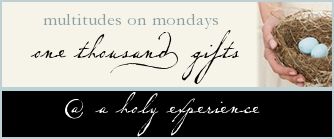 835.
Lunch at school with boys
837.
Beautiful fall weather, actually needing sweatshirts at soccer practice
838.
Shopping and lunch with my parents
839.
Homemade hot fudge sauce
840.
A hug from a sweet friend at Bible study
842.
The way a huge flock of birds dart and move as one entity
843.
Teaching on the Ten Commandments—I love the significance of it, how it reveals our sinful selves, teaches us about God
844.
How every story in The Story points to Jesus
845.
Psalm 125:2

As the mountains surround Jerusalem, the Lords surrounds His people now and forever
847.
Little boys playing legos
848.
How much the boys are enjoying "uncle Sam" and "uncle Clint"
850.
A perfect park day, catching up with sweet friends
851.
Unexpected colors of autumn
853.
A gentleman who tips his hat to me at the park
854.
Cool mornings and progress in running
855.
Smell of freshly cut grass
856.
Little boys in jeans
857.
"yes, we trust God" yelled out in church
858.
hearing sweet words of commendation for William's 'dependability'
859.
that Micah got to go to chapel with me to hear those words
860.
aquarium and park field trip with the boys
861.
an urgency to get things done which turned out to be providential timing since the delivery to the container for Africa ended up being the next morning
862.
a great report from boys' teacher
863.
a fun filled family Saturday
864.
last minute dinner with friends
865.
hearing people call out the promises of God during church on Sunday
866.
fresh produce from our new CSA share