One Thousand Gifts, One Year Later
Last year on November 29th, I wrote this
post
sharing the beginning of my journey to writing down one thousand gifts from God. Tonight, I am going to be posting my finished list of one thousand gifts. I have done a lot of thinking about the process as I have come down to these last few days. I certainly didn't know last year what this year would hold, but as I have worked at the discipline (sometimes more successfully than others) of naming the many many graces that come my way every single day, I can see clearly how God has used this in my life to constantly remind me to look to Him, the giver of all good gifts. I will definitely keep recording my gifts, but don't know that I will always list them all out on my blog, partly because I know that there will be times that I want to be more specific, but can't necessarily on a public blog. I want to keep posting some though, because it is always an encouragement to me to read others' lists and I hope in some way that reading my gifts spurs another on to look for the gifts in their own life.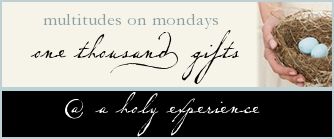 982.
A grandpa for my boys who willingly takes them to feed the horses
983.
Photo recovery software
984.
Sweet giggles and hugs from the boys
986.
A kind doctor for Micah
987.
Scriptures that come readily to mind
988.
Antibiotics for Melissa
989.
Freshly roasted coffee
990.
"angels we have heard on high…" sung by the man ringing the bell for the Salvation Army outside Sam's
991.
reading about a Compassion International trip to Ecuador by one of my favorite bloggers
992.
getting the Christmas Card done
993.
starting the Jesse Tree Advent devotionals as family
994.
the quiet in the house as I remember the giving of thanks this year
995.
"Threshold of Glory" by Selah "magnificent one, merciful judge…omnipotent one, almighty friend, You are always just, You are always good"
996.
His constant presence in the moments….even the 'kids-are-driving-me-crazy' moments
1000.
My Father, forever gracing me with gifts big and small, He truly does satisfy my years with good things (Ps. 103: 5)