A Thousand Gifts
I have not been very faithful with recording these the last couple of weeks. But, I am getting tantalizingly close to reaching my goal of recording a thousand gifts and am determined to spend time each day recording the many graces/gifts that I receive each day.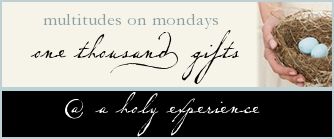 867.
help from neighbors when I awoke to the van's battery being dead
869.
extra time together as a family on the trip to Grandpa King's funeral
870.
hearing testimony at the service of how his burden lifted when he accepted Christ
871.
beautiful fall colors as we drove through Missouri
872.
carving pumpkins, making memories together
873.
getting to the airport, making it to gates, anticipating a fun filled day
874.
sweet visits and time with Dana, Lynette, and Kari
876.
going on a photo shoot with Melissa
877.
a birthday celebrated with my sisters
878.
his mercies are new every morning, great is His faithfulness
879.
the surrounding presence of the Lord (Psalm 125:2)
880.
meeting a friend for coffee, conversing in French
881.
lunch outside on a November day
882.
the stunning beauty of fall in Nashville
883.
a relaxed morning with Rory and Melissa
885.
amazingly sweet reunion with my boys
886.
end of soccer season
888.
Some super sweet friends who organized a birthday dinner for me complete with cake and candles
890.
Hysterical giggles of our kids playing together
892.
Exceedingly kind and helpful sales people all day long
893.
Getting milk for another store's sale price at Walmart
894.
A freezer full of meat
895.
Not getting sick while at Melissa's (I was having a seriously sore throat, but managed not to get sick!)
896.
German Chocolate Cake
897.
Micah loving his rotation