A thousand gifts
We (well, the boys and I) spent the last week at my parents house in Illinois and apart from the fact that Micah didn't get to be with us, it may have been my favorite week this year. Seriously, time with my family is so precious and we had the absolute best time. I am so close to reaching my goal of writing one thousand gifts and have been trying to be extra vigilant to record those moments. That coupled with the fact that it has been a couple of weeks since I posted means that this is a pretty long list, so here we go:
898.
A day without shoulder pain for the first time in several days
899.
For having a husband who can adjust my back and help me be pain free (see above!)
900.
My surgeon and her care for her patients
901.
That I call her my friend
902.
Homemade spaghetti sauce
903.
Little boys learning to read
904.
Headband to keep my ears warm on a cold morning
906.
Sharing the 'practice' of trusting with others whose loved one is ill
907.
Recapping things learned in Bible Study this semester
908.
A good smelling candle
909.
The friend who gave it to me
910.
Just how much Micah is enjoying his rotation
911.
Sweet sweet spirit in Bible study
912.
Analogy of grace and gratitude…as thunder always follows lightning…when the lightening of grace hits our lives, our response should always be thunderous praise
913.
Psalm 132:15 (the Message) "I'll shower blessings on the pilgrims who come here and give supper to those who arrive hungry."
914.
Getting to scrap while oil was being changed (and actually finishing a page since it has been taking me forever to scrap recently)
915.
Coming home to laundry started, kitchen cleaned (the way I like it and not necessarily the normal Micah way) & floors vacuumed
916.
DVR—being fixed….I don't think the DVR has yet made the list and it might be silly, but let's be honest, I am thankful for it.
918.
Micah getting to be off after a very long 'day into night' shift
919.
Kindergarten Thanksgiving Feast
920.
Leaving a clean house
921.
Excitement of seeing family
922.
Exchanging encouraging Scriptures with a friend
923.
The morning light coming up on fields as we drive
924.
Safety on a long trip
925.
Boys joy at putting on barn boots and heading out to feed the horses
926.
Church with my parents
927.
Reminder in Sunday School how as believers we 'dare not' look at our lives as only today, but always look ahead to the future
929.
All of my siblings at home (or my parents' home) together
930.
Watching the Cosby show with the whole family and kids
931.
How the boys and Camden just disappear downstairs to play together
932.
Another photo shoot with Melissa
933.
Worn out kids from endless playing, running, riding horses with Grandpa
934.
Finding a deal before Black Friday
936.
My brother making lunch for us
937.
Then, keeping the boys while all the girls went shopping
940.
Cousins who have played hard and played well together (yes, it is showing up again, but they were seriously good)
941.
Safe travel for family
942.
Micah's spot on his face—not melanoma, but basal cell carcinoma
943.
Cooperative children for pictures
944.
Melissa not getting hurt when she fell
945.
Counting blessings with my family
946.
Being at Liz's baby shower
948.
The fun of seeing our kids enjoy each other
949.
Sitting around talking/laughing late with family after everyone is gone
950.
So many family members to mom and dad's house for Thanksgiving
952.
Thanksgiving appetizers (Neiman Marcus, yummy cheese, etc.)
954.
Uncle Larry sitting on the floor of laundry room tying Rory's shoes
955.
My grandpa's prayer at lunch
956.
Hysterical laughter with my cousins at the 'big' kids table
957.
Football in the backyard
958.
A big family picture
959.
A big group walk after the 'feast'
960.
The beautiful sky as the sun was setting
961.
Sitting, visiting, eating throughout the day
962.
How much my grandpa loves the Lord
963.
A family prayer time for Melissa
964.
Standing with my Grandpa Hale during prayer
965.
How much fun the cousins have had and how good they have been
966.
Nov 24—Jesus Calling: "Thankfulness takes the sting out of adversity…there is an element of mystery in this transaction. You give me thanks (regardless of your circumstance) and I give you joy (regardless of your feelings). This is a spiritual act of obedience..at times, blind obedience."
967.
Laughter and tears with my parents and sisters
968.
How God knows what we need at the exact moment that we need it
969.
Black Friday shopping with Melissa
970.
A wiener roast with the kids
971.
A photo with my brother and sisters
972.
Reading through old letters, looking at old pictures
973.
Reading through the 'leaves' of the Thankful Tree
974.
Rain stopping on my trip home
975.
Seeing Micah, being back together as a family
977.
Sleeping in my own bed
978.
A great night of sleep
979.
Conversations of the heart
980.
Reminder to rest in what we know is true in God's word
981.
He is faithful and just to forgive us our sins and to cleanse us from ALL unrighteousness.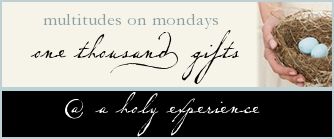 And just one picture from last week. The boys were SO excited to get to grandma and grandpa's house last week and it took less than 10 minutes of arriving before they had their 'barn boots' on and were out to see the horses and feed with my dad. So thankful for a grandpa that takes time with his grandsons (I am thinking that needs to be added to my list!)