Let's talk food
I have been planning on doing a food post ever since my sister and family were here. We tried out a few new recipes while they were here and I thought I would share a few links with you.
1. Back when the episode featuring
this recipe
first aired on The Pioneer Woman's show, Melissa sent me a text saying she was really wanting to try the sausage/pancake on a stick 'thing-ys', so that is what we did while they were here. They were a pretty big hit with everyone, although it did take a bit more effort than one would think after reading the recipe and watching the show.
2. We also made this
Quinoa Salad with Roasted Tomatoes and Avocado.
I have to admit that a variation of this has been showing up on our menu at least once a week, sometimes twice a week since then. If you haven't tried quinoa, I highly recommend it. It apparently is very good for you nutritionally...after I made this salad, Micah promptly looked it up and researched it and told me later that we should be eating some of that every day :) If you do decide to make this salad, these were some adjustments that we have since made:
we didn't think that roasting the tomatoes made that big of a difference, and so have just been throwing in cherry tomatoes or dicing up some fresh ones.
toasting some almonds adds just the right amount of crunch
we didn't love the vinaigrette from the recipe and so I have been making a mixture of olive oil, red wine vinegar, dijon mustard with salt and pepper--so yummy and reminiscent of our favorite salad dressing from France
adding some grilled chicken is also really good
I have decided that this salad can be pretty much whatever vegetables you have on hand. Last night, we had yellow bell pepper, tomatoes, cucumbers, spinach, black beans, almonds, peppers, and quinoa and it might have been our favorite yet.
3. Overnight oats....there was a
thread
on scrapbook forum about overnight oats:
1/2 c uncooked rolled

oats


1/2 c greek yogurt (plain or flavored)
1 Tbsp chia seeds
2/3 milk, almond milk, soy milk or even water

Basically you mix all that together and leave it overnight in the refrigerator, eat it as-is in the morning or get creative and add some fruit or other toppings. To say I was skeptical might be an understatement, especially since I have not been a huge oatmeal fan in recent years and on top of that, the idea of cold oats sounded slightly disgusting to me. But, there was a LOT of support for it and I jumped on the bandwagon and now these oats make an appearance several times at our house several times a week. We have a ton of blueberries in our freezer from our blueberry picking adventure and our favorite mix so far has been to use Vanilla Greek yogurt and throw a handful of frozen blueberries on top, they defrost overnight and it is a great breakfast. If you are crafty, you can mix up little individual ones in mason jars like this photo: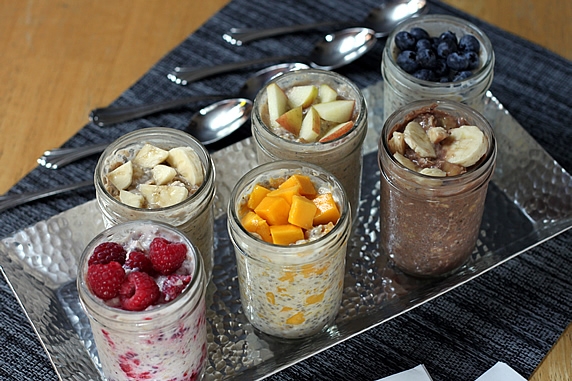 I have also tried it with a little teaspoon of Nutella mixed in with some banana on top and that was pretty tasty as well.
4. We made Pioneer Woman's homemade
Cherry Limeades
for the Fourth of July which were 'totally awesome' in the words of my nephew.
5. My last fun food adventure for this summer has been making ice cream sandwiches using these
Oatmeal Crispies
. We love these cookies (especially with chocolate chips added) and I love that you can keep a log of the dough in the freezer and just pull it out as needed. I just cooked them a little less so they weren't too crispy and put some vanilla ice cream between two cookies, wrapped them up, kept them in the freezer until dessert time.
Hope you have had some fun food adventures too!